Access is a Database
Access is an outstanding database program that is especially suited to administration systems such as, for example, CRM-systems, sales distribution, stock distribution, statements and more.
Access is a fast program that is included in the Microsoft Office Suite.  Hence, it is readily available on desktops  and development cost is limited.    It is a very intuitive program and it is very easy to learn.  Companies do not need to contact a system consultant  in cases where they need to make an ad hoc extractions and reports.
Access is recommended for local offices of small and large companies that have specific and distinctive needs.
Access is the Appropriate Application
Many companies use Excel to register inventory and sales and Word to print invoices.  However, as the company expands so does the need for a more automated, greater controlled and better structured database – just as it would be useful if several users could utilize the system simultaneously.
The solution should be a data-base program. A database application offers lots of possibilities.  The data on customers, contacts, appointments, notes and other relevant data can easily be registered and relationships of these data to various information like stocks, pricelists, sales, and others can be established.
Our Work
We have worked on a number of databases.  Our competent consultants have more than fifteen (15) years experience in the design and development of Access database.
Our solutions are always delivered with user friendly interfaces and appropriate and simple workflows.
The below is a screen shot of the application developed to manage customers and there pets.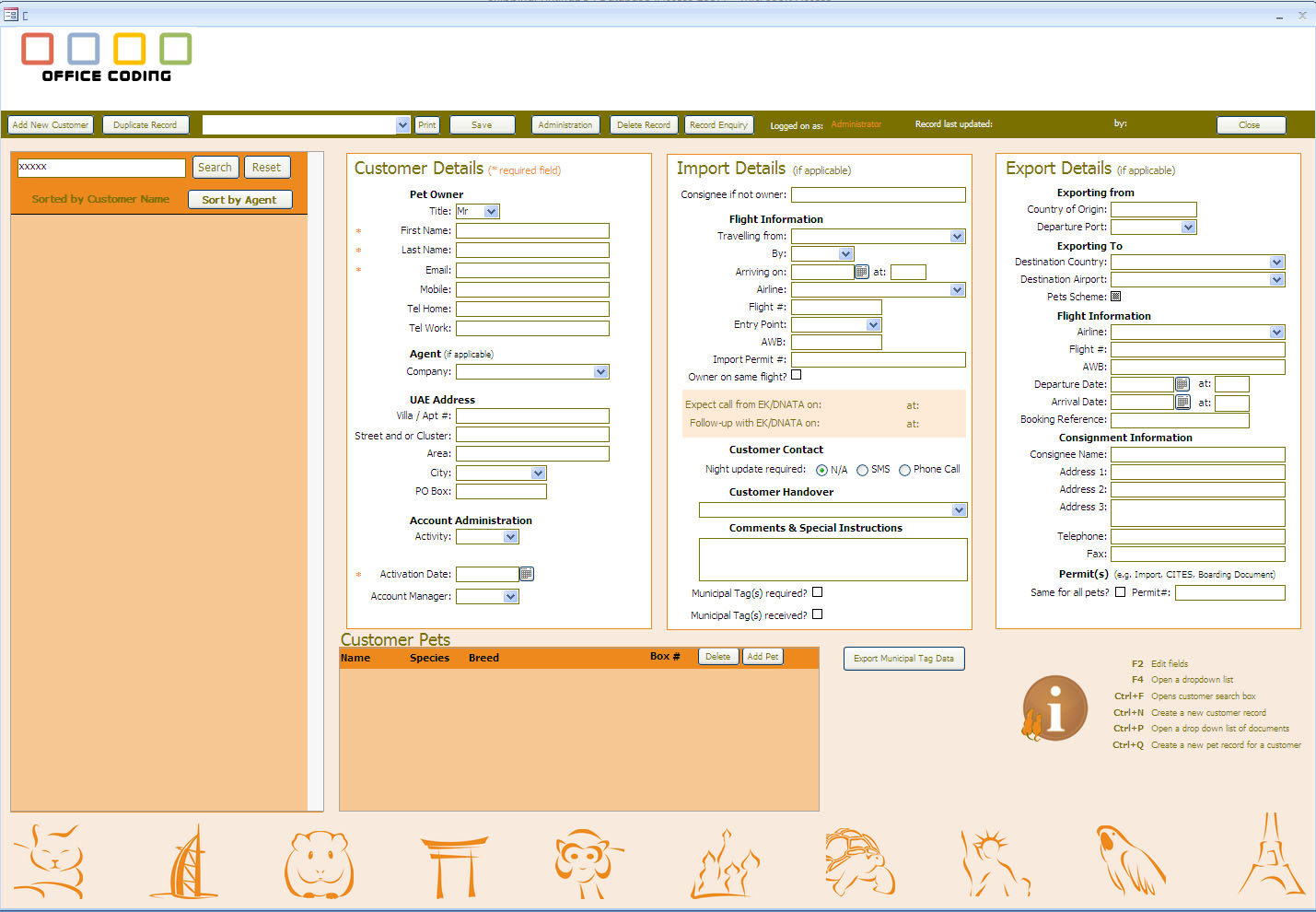 With Officecoding you are in safe hands on enhancement of existing or development of an Access database system .
Amongst other areas, we can help you on:
Adding or maintaining of existing programs
Designing and development of new projects
Integration of Access to Outlook, Word and/or Excel
Upgrading your existing programs to newer versions
Upsizing of desktop databases to an SQL Server or other enterprise database systems
Project management and participation
Consultancy
Data analysis
Structuring, normalizing, validation and conversion of data
Setting up, implementation and guidance on Access, SQL Servers and more
Contact us here and get a great offer.
---